Red Hot Chili Peppers Wind Chime..$ 35.00.
Our wind chimes have the nicest melody. A glass like quality, rich in tones and crisp clear sounds.


They are durable and able to withstand the outdoors but we do suggest bringing them indoors during major storms.



Reasonably priced from $ 25.00 to $ 35.00 each plus shipping.




This is a new site which will be updated daily until completed.



Photos of New items of Stoneware will be added as they are produced and become available.


We will be adding an area for Orders and Special Request creations.



Until then feel free to email us with an order and we'll get right back with you with ordering verification and payment via Paypal.com or yahoo.com


Be sure and check out our Photo Page for more Wind chime designs.



Coming soon will be photos of our Incense Burners, Leaf Bowls, Chess Sets, Dragons, Tree Mugs and many other items.




Be sure and order early for the Holidays.








A Unique way of enjoying Stoneware and Pottery.





Each peice is Kiln Fired to perfection.





Hand sculptured and glazed.




We offer a wide variety of custom colors for special requests.

We'd like to hear from you
Gift ideas, special requests orders and wholesale orders gladly accepted.


Just drop us a line
SculpturesInStoneware@yahoo.com
NEW DESIGNS !!! CHECK OUT THE PHOTOS PAGES
We hope you enjoy our Stoneware.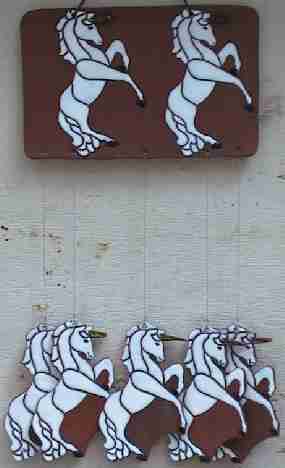 Unicorn Wind Chime $ 25.00
Light, crisp,,, glass-like Melody
sculpturesinstoneware@yahoo.com